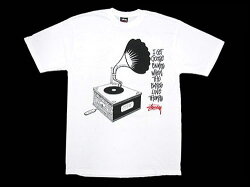 image via
Found another Gilbert Hernandez Stussy t-shirt for sale on the above Japanese retail-site. More close-up shots and the back of the shirt can also be found at the above link. Art (c) 2010 Gilbert Hernandez.
Comic-Con Links:
Missed it in my earlier post of Hernandez signings at San Diego Comic-con 2010,
Abrams ComicArts
was giving away posters of THE ART OF JAIME HERNANDEZ at their booth, #1216. Jaime Hernandez and Todd Hignite were scheduled to sign at the ComicArts booth Friday 7/23 from 3:00-4:00pm, and Saturday 7/24 from 10:00-11:00am. via Comic Book Resources/Abrams press release 7/20.
Academic:
COMIC ARTS CONFERENCE SESSION #15: ALTERNATIVE COMICS. "[...]Sheri McCord (Saint Louis University) argues that Jaime Hernandez's characters Maggie and Hopey reveal the complexities of being sexual women to their audience and illustrate the conflict between friendship and attraction, love and desire." This was to be held Sunday 7/25 from 1:00-2:30pm in Room 26AB at the San Diego Comic-Con 2010.
Panel:
"Writing Queer: Creating and Writing LGBT Characters" a panel featuring Gilbert Hernandez, Greg Rucka, Gail Simone, Judd Winick, Paige Braddock, and Howard Cruse. This was to be held Thursday 7/22 6:00-7:00pm in Room 32AB at the San Diego Comic-Con 2010.
Mike Baehr reports from the Hernandez Family signing Friday 7/23 at the San Diego Comic-con, looks like a huge crowd for the crew from the seven photos posted by Baehr. via
FlogBlog
Tom Spurgeon reports on 7/24 from the San Diego Comic-con that LOVE AND ROCKETS: NEW STORIES 3 was among the brisk sellers at the Fantagraphics table. via
comicsreporter.com
Mr. Spurgeon also reported that COMICS REPORTER won the 2010 Eisner Award in it's category. Congratulations, very well deserved.
Fantagraphics Books
photos
from San Diego Comic-Con 2010 on flickr.com.
FlogBlog Spotlight:
Mike Baehr reports on three new signed bookplates by Jaime Hernandez when you order copies of PENNY CENTURY, LOCAS, and LOCAS II from Fantagraphics. via
FlogBlog
Mike Baehr digs up another tattoo based on LOVE AND ROCKETS at
FlogBlog
.
Mike Baehr also finds some old photos of Jaime and Gilbert on the Hernandez Brothers' Facebook page, linked through/via
FlogBlog
.
Review:
Sean T. Collins reviews MOME 17-19, including Gilbert's "Roy" story in the latter. via Flog Blog
Essay:
Bob Temuka writes about the perception of LOVE AND ROCKETS in general, and reviews Jaime's GHOST OF HOPPERS collection specifically. A rare lengthy exploration of the L&R universe. via FlogBlog
Essay:
Spanish-language review of Gilbert's work via FlogBlog
Various and Sundry:
Fun Stuff:
Tom Spurgeon posed the challenge of naming five future inductees into the Eisner Awards Hall of Fame in his "Five for Friday 219." Mr. Spurgeon and a few others named the Hernandez Brothers, I agree but only had five choices! I don't know if a Hall of Fame is something a comic book artist of the Hernadez's level actually covets, but they certainly deserve to be named among the best cartoonists in history.
Review:
R.C. Harvey reviews THE ART OF JAIME HERNANDEZ for tcj.com. Hasn't it been established that Harry Lucey was more of an influence on Jaime then Dan DeCarlo? Is this something that exists only in my own fevered brain? Lucey's work is fairly swiped in several of the most effective panels in Jaime's stories.
Essay:
@ComicsComics T. Hodler's "To Be (or Not to Be) Continued" mentions the Hernandez Brothers' work in relation to his question of how serial works were/would be affected by imminent/unimagined collection into book form.
Upcoming Comics:
Laura Hudson reports that Gilbert and Jaime Hernandez will be contributing to the Marvel series, STRANGE TALES II. via comicsalliance.com
Upcoming Comics
: Albert Ching, at Newsarama, interviews STRANGE TALES II editor Jody LeHeup who gives up the Marvel characters Los Bros did for that upcoming series. "Space Phantom" by Jaime and "Iron Man" by Gilbert.
Upcoming Comics:
LOVE FROM THE SHADOWS, Gilbert's third Fritz-movie hardcover graphic novel (after CHANCE IN HELL and TROUBLEMAKERS) is set to be released 12/31/10. via infibeam.com (India)
Upcoming Comics:
Chris Mautner reports Fantagraphics to release a trade paperback collecting all nine issue of YEAH the late-lamented DC series by Peter Bagge and Gilbert Hernandez.
Review:
EnComics reposts an Amazon.com review of LOVE AND ROCKETS Vol. 14: LUBA CONQUERS THE WORLD, which generated two comments.
Historical Artifiact:
Another copy of the self-published first issue of LOVE AND ROCKETS has turned up on eBay for sale. It seems a bit high-priced, but there aren't a lot of these around any more (this makes three I've caught on this auction site alone).
Susan E. Thomas
reports
on Calvin Reid's donation of graphic novels and other books to the BMCC Library, including unknown titles by Gilbert and Jaime Hernandez.
In a
review
of Ian MacDonald's DESOLATION ROAD Jason Pettus refers to an old influence of Gilbert's: "I have however, already read and reviewed yet another [ONE HUNDRED YEARS OF] SOLITUDE ripoff from these same exact years, Gilbert Hernandez's PALOMAR stories [...]."
George Beliard
posts
a rare early original art page by Gilbert, page three from his "Heartbreak Soup" story dated 1983. via comicartfans.com
Rene Dorenbos
posts
Gilbert original art from two calendar plates and an original series cover for LOVE AND ROCKETS (all "Poison River" era pieces). via comicartfans.com
Scott Eder Gallery
posts
a page of Gilbert's original art from "Human Diastrophism" (censored). note: not a link to the SE Gallery.
Greg Moutafis
posts
a Jaime commission sketch. via comicartfans.com
IDNKT: "In the first story in 'The Rocketeer,' Jaime Hernandez worked on a page with Dave [...]," Scott Dunbier quoted in an article about IDW's reprinting of Dave Stevens' THE ROCKETEER series. Article is written by Comic Book Resources staff writer Shaun Manning. Good article, Mr. Manning! [oops, I'll have to backtrack a link for this one.]

The Hernandez Brothers and LOVE AND ROCKETS are mentioned as influences on Jim Mahfood in this profile of the artist.
Essay:
"Remembering Los Angeles as a Hotbed of Alt-weekly Comics" by Ben Schwartz, includes quotes from Gilbert and Jaime Hernandez.
List:
Joe Vince's list of "Eight Comic Book Musical Acts That Are Ready for the Big Screen" includes Hopey Glass.
List:
Casey Seijas's list of "Comics Most Bizarre Sex Scenes, Situations & Creators" list Gilbert's LUBA series.
Weird:
LUBA hardcover cover posted on Hairy Sack of Magic, what appears to be a design blog. I wouldn't click anything on, curiosity killed the browser.